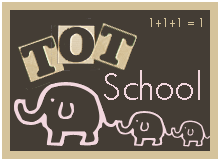 Lauren is two years and seven months old. This week in Tot School she...
Put together rhyming puzzles with my help.
Strung ocean animal beads.
Sewed with our Filo Design with Laces set.
Stamped flowers.
Explored glue and glitter.
Stamped farm animals.
Played with shaving cream. This is an exciting development for us. Until recently she was not willing to put her hands in finger paint or
shaving
cream.
Matching bear counters to picture cards. She worked with bears of six colors and two sizes.
For more Tot school ideas visit 1+1+1=1