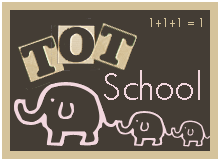 For more tot school ideas visit
1+1+1=1
!
Lauren is two years and seven months old. She had a fun week:
Sorting buttons by shape.
Using a funnel to pour rainbow rice into bottles.
Dumping the coins out of her piggy bank and sliding them back through the slot.
Putting together a puzzle I made from an empty fruit snack box.
Cutting her own puzzle.
Making Do A Dot pictures at the easel.
Gluing items from our collage box.
Painting with
puffy paint
. Thank you
My Two Happy Homeschoolers
for the great idea!
Cleaning the table. I am teaching the girls to spray once and wipe until all the water is gone before spraying again.
"Reading" our
I Went Swimming
chart.
Writing a story! This is my favorite picture of the week! Lauren saw an ant by the back door and then decided to write a story about it. When she pretends to write, she carefully says the words and makes verticle lines for her "letters". I can tell she has been watching mom and big sister write.