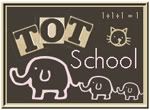 Lauren turned three years old this week! Our tot school objectives for this week were:
Recite rhymes and songs
Small muscle control activities
Count up to six objects
Recognize letters
Extend simple patterns
Recognize shapes
In honor of Lauren's birthday I pulled out the birthday cake counting boards. Lauren placed three candles on each cake.
Later we played a birthday counting game. We set out several stuffed animals and placed a birthday cake counting board in front of each animal. We took turns choosing an animal to be the birthday friend. We rolled the die to see how old the animal is and then placed the correct number of candles on the animal's cake. Then we sang "Happy Birthday" to the animal. This was a fun, playful way to practice counting.
We played a game with our unit blocks. Lauren and I each had a matching group of five blocks. One of us would make something with our blocks and the other would copy the creation.
Lauren smashed bananas for banana bread. Thanks to
Michelle from A Mommy's Adventure
for this idea.
Lauren enjoyed our
Very Hungry Caterpillar lacing activity
.
Lauren spent a lot of time exploring the unifix cubes this week.
I showed her how to make patterns with the blocks. She repeated this activity several times.
Lauren has been very interested in letters lately so I have started to do a little letter work with her. Here she is sorting Ls and Os.
Lauren used tongs to transfer small apple ornaments from the tree to the basket.
Lauren and big sister Julia enjoyed
Teach Mama's fabulous shape activity
.
Check out
1+1+1=1
for more Tot School fun!