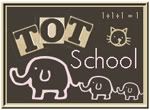 I had more planned this week but illness in our family made this another light week for tot school. Lauren's learning objective this week were:

Fine motor control: pouring, tracing with finger
Balancing while walking on a line
Throwing and catching a bean bag
Understand that print carries a message
Tracking print from right to left, top to bottom
Identifying letters
Ordering objects by size
Here are a few pictures of this week's work:
Lauren had fun painting pumpkins as part of our
stART project
.
Here she is pouring beans into a cup.
Lauren ordered five lids from smallest to largest...
and then stacked them.
She also ordered five pumpkin pictures from smallest to largest.
She enjoyed walking along a six foot long piece of rope. This took a great deal of balance.
It was even more challenging to walk the rope while holding an object. Lauren carried a bag and walked on the rope to me. Then she said, "Trick or treat" and I put a block in her bag. She liked doing this so much I thought she would never stop!
Lauren tracked the print while we sang her Lauren Song.
We also read our
Halloween Pumpkins poem
.
She had fun using her finger to write letters in colored salt.
After Lauren traced each of the sandpaper letters I named a letter and she held it up.
When big sister Julia spent some time writing in her journal Lauren decided to join her.
So, here she is "writing" in her journal. She worked hard making several rows of small, pink circles. I love the look of concentration on her face.
Lauren also enjoyed a scooter ride along a local nature trail.
For more Tot School fun visit
1+1+1=1
.