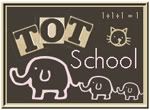 I was thrilled to see that the leaves had finally started changing colors around here. Yippee, we can finally do some fall themed activities! But then the weather turned quite warm, with high temperature reaching into the 80s. Somehow talking about cool fall weather just didn't make sense. So, I set aside most of what I had planned and we spent a lot of time playing outside and even snuck in an awesome trip to the zoo. Even so, Lauren enjoyed her tot trays and a few mommy directed activities.
Her objectives this week were:
Fine motor control: using tongs, squeezing a sponge, cutting, pin pushing, stamping, manipulating playdough
Counting up to six objects
Sorting objects and pictures by color and shape
Identifying opposites
Identifying letters
Examining leaves and acorns
Here's a peek at her week:

Tot Trays

Transferring acorns with tongs,


transferring water with a sponge (this was a huge hit),


Lauren picked up a rock on one of our walks so I set up a rock cleaning tot tray.

cutting strips of fall colored construction paper,

stamping letters into orange playdough,
pin pushing an outline of a leaf (This is another great activity from
My Montessori Journey
. Unfortunately Lauren didn't enjoy it very much.),
examining leaves and acorns with a magnifying glass,
sorting buttons,
and sorting pictures by shape.
Mommy Directed Activities
Lauren had a great time collecting acorns.
We played our squirrel grid game (
click here
to read about this and download the materials)
Lauren had fun with
M&M math
.
We read Tana Hoban's
Exactly the Opposite
and then matched opposite pictures.
For more Tot School fun visit
1+1+1=1
.