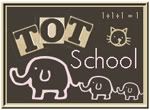 I didn't have any written plans for tot school this week so we had to wing it. Here are some snapshots from Lauren's week:
sorting letters on the white board,
making a caterpillar c,
cutting paper strips on the lines,
gluing the cut paper and glitter onto an apple shape,
using an eye dropper to transfer water,
playing in the pom pom tub with friends,
trying to make play dough balls,
scooping and pouring rainbow rice from the rice tub,
using a slotted spoon to scoop and shift magnetic letters from a bowl of rainbow rice,
and making Mr. Potato Head's friends.
To see what others did for Tot School visit
1+1+1=1
.