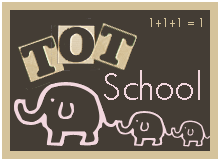 Lauren is 35 months old. Her learning goals for this week were:


recognize written first name


identify parts of the face: eyes, nose, mouth, cheek, chin, ear, earlobes, forehead, lips, eyebrows, eyelashes, nostrils


recite nursery rhymes: This Little Piggy Went to Market


small muscle control


tear and glue paper


identify color red


find an object that is being described


identify pairs of objects as the same or different
Here are some snapshots from our week in tot school:


I named parts of the face and Lauren used a pencil to touch those parts on the baby's face.



Later in the week, I gave Lauren a picture from a magazine. I named a part of the face and Lauren colored that part red.



Lauren worked on tearing red paper .



After finding red objects in our collage collection, Lauren made a red collage.
She sorted toys into "red" and "not red" piles,
She colored a simple red book. To make this interesting for her I provided various red coloring tools: a thick marker, thin marker, glitter marker, crayon, and pencil.
Lauren matched pictures of red objects.
I set out four princesses at a time and then described a princess. Lauren listened to my description and found the correct princess.
Each of us had a pile of color bear cards. We would take turns turning over a card and Lauren would decide if the pictures were the same or different.
We used the color bear cards to play a memory game.
Check out
1+1+1=1
for more tot school inspiration.